Best File Recovery App for Android 2023
In this digital era, our smartphones have become repositories of our cherished memories, with countless photos capturing moments of joy, love, and adventure. But what happens when these precious photos get accidentally deleted or lost due to unforeseen circumstances?
Fortunately, there are several reliable photo recovery apps available for Android devices that can help you retrieve those lost memories. In this blog post, we'll explore the top five photo recovery apps for Android, ensuring that your priceless photos are never gone for good.
1. DiskDigger Photo Recovery
DiskDigger Photo Recovery is a highly recommended app known for its simplicity and effectiveness. It enables you to recover deleted photos from both internal storage and external SD cards.
The app thoroughly scans your device and provides a preview of recoverable images, allowing you to select the ones you want to restore. DiskDigger also supports various image formats and even recovers photos from formatted or damaged storage.
2. Dr.Fone – Data & Photo Recovery
Dr.Fone is a versatile data recovery tool that includes a dedicated photo recovery feature. It boasts a user-friendly interface and supports the recovery of deleted or lost photos, as well as other data types such as contacts, messages, and videos.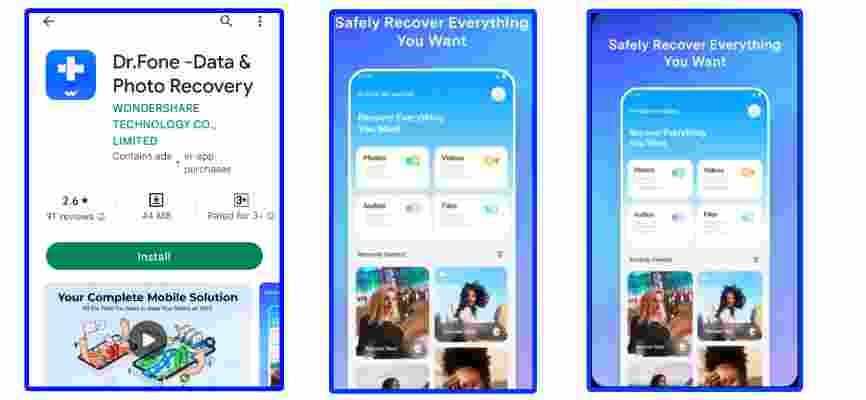 "Dr.Fone" application can perform a deep scan to retrieve photos from both your device's internal memory and external SD card, ensuring comprehensive recovery options.
3. Dumpster: Photo/Video Recovery
Dumpster is an all-in-one app that serves as a recycle bin for your Android device. It automatically saves deleted photos, videos, and other files, allowing you to restore them effortlessly.
The app offers a clean and intuitive interface, making it easy to navigate through the recovered items. Dumpster also provides cloud storage integration, enabling you to backup and recover files even if they were deleted before installing the app.
4. Photo Recovery – File Recovery
Photo Recovery is a lightweight app designed specifically for image recovery. It scans your Android device for deleted or lost photos and presents them in an organized manner.
The app supports various image formats and allows you to filter the results based on file type or size, making it convenient to locate and recover specific photos. Additionally, Photo Recovery offers a secure and fast recovery process without any intrusive ads.
5. Mobisaver
MobiSaver is another reliable photo recovery app that specializes in retrieving deleted pictures from Android smartphones and tablets. It scans your device's internal storage and external SD card to locate and restore lost photos.
MobiSaver offers a simple interface and intuitive recovery process, making it suitable for both novice and advanced users. It also allows you to filter scan results by file type and provides a preview option to ensure you recover the right photos.
Losing precious photos can be a heartbreaking experience, but with the right photo recovery app, you can restore those memories and keep them safe. Whether you opt for the simplicity of DiskDigger, the versatility of Dr.Fone, the convenience of Dumpster, the focused functionality of Photo Recovery, or the advanced features of Mobisaver.
These top five photo recovery apps for Android will help you retrieve your deleted or lost photos effortlessly. Download one of these apps and ensure that your cherished memories remain preserved for years to come.